For most people, the water that disappears down the drain after a hot shower or laundry cycle is out of sight, out of mind. But as a group of Australian water treatment experts have found, this soapy fluid is in fact a veritable goldmine for both energy and cost savings.
Their brainchild, Nexus eWater, launched in 2009, makes the world's first water and heat recycling systems for homes, which allows households to reuse some of its wastewater for flushing toilets, irrigating lawns, and even heating up clean water.
The company's key offering is the NEXtreater, which cleans up the 'grey water' from showers and washing machines that makes up about 70 per cent of all water discharged from homes - and returns it to a near-potable state.
Its accompanying invention is the NEXheater, which harnesses the heat from this wastewater to warm up clean water.
In a recent interview with Eco-Business, Andrew Hermann, the company's co-founder and chief operating officer declares that recycling water from homes is "possibly the greatest opportunity" for sustainable water use in water-scarce cities.
Nexus eWater's system can cut water use in homes by about a third, and save homeowners as much as US$200 a month by reducing water and energy use, says the company.
In 2009, guided by a belief that such a product would be well-received in arid cities, especially in the United States, Hermann and three of his colleagues in Australia formed Nexus eWater using the knowledge they had gained working for a previous company.
At the time, "existing treatment processes for grey water were too unreliable and expensive for use in homes," recalls Hermann.
Waste is commonly treated by introducing in bacteria which digests organic compounds. But these systems cannot cope when there is a sudden spike in water volume. Furthermore, if a family isn't home for a few days, the microbes in the treatment tank will starve and die, he explains.
Hermann and his team saw in this a "novel opportunity to develop a reliable and cheap method to treat grey water in homes," and after three years of research, testing and development, the company struck gold when it developed a patent-pending method to make grey water clean enough to reuse in the home without relying on bacteria to do so.
A revolutionary system
In Nexus eWater's solution, grey water is channelled to a collection tank, and then passes through a three-step process in the NEXtreater which will eventually produce water clean enough to flush toilets and water lawns.
First, the machine injects air into the water so that the soap and detergents bubble up on the water surface. Most contaminants are caught up in the foam, and once this is skimmed away, what is left behind is relatively clear water.
To remove substances such as hair dyes, perfumes, and bleach, which do not form bubbles, the water is passed through a carbon filter. The final stage is to disinfect the water using a very strong dose of ultraviolet light.
The recycler, which has a daily capacity of about 760 litres - the average US household uses about 1,500 litres of water a day, half of which is for showering and laundry - can be used on its own or combined with the heater, which Hermann says was developed "almost by accident".
While the team's focus was on treating grey water, they quickly realised that grey water was usually warm, and this heat energy was being wasted.
To capture and reuse this energy, a heat exchanger - a device used to transfer heat between fluids - is submerged in the collector tank. It channels the heat to a separate water heater.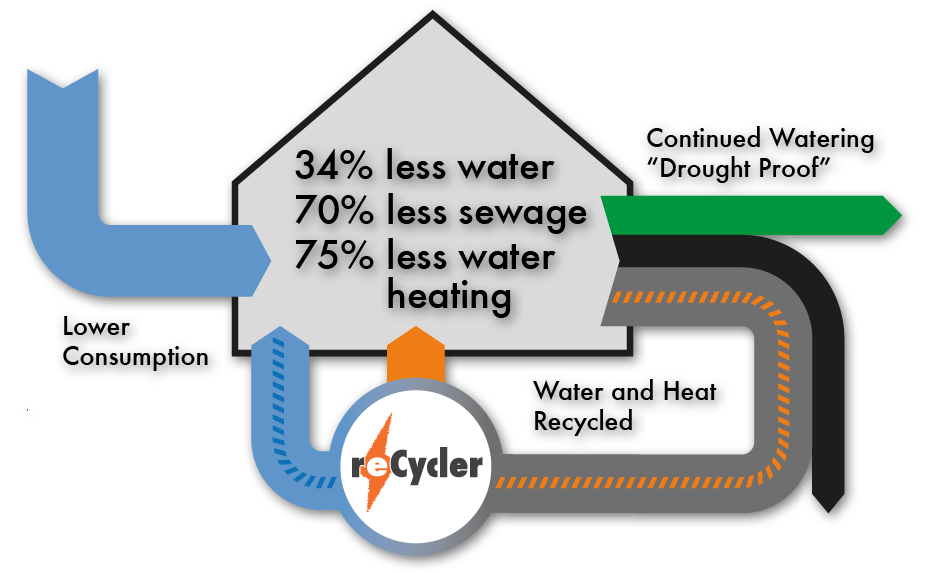 This creates a recurring cycle of heat between clean and wastewater, and can reduce the energy needed by a household to heat water by as much as 75 per cent. Hermann adds that because the entire system is powered by electricity, it can even be energy neutral if the house is powered by solar panels.
The water recycler, which can be installed in new bungalows or retrofitted into existing ones, shrinks water use in a typical single family home by 34 per cent and slashes sewage output by 70 per cent.
A reduction in the volume of water also means that less energy has to be expended on transporting water from freshwater sources to the city, and subsequently to homes, says Hermann.
He adds that if a property developer integrates this product into homes from the start, the expected reductions in wastewater flow will reduce the fees paid to connect to the local sewage network, as buildings which emit a higher volume of sewage into the network have to pay a higher 'tie-in' fee.
Watershed success
Although the product was initially developed in Australia, the United States is the company's key market right now and where it is currently headquartered, shares Hermann.
In 2008, a drought that had plagued Australia for many years ended, leaving most cities with a water surplus and little interest in water recycling.
This prompted the company to turn its attention to cities with a perennial water struggle, and the affluent cities in dry southwest American states such as California, Nevada, and Arizona, were perfect candidates.
Rapid population growth, water-intensive lifestyles and the fact that California is in the throes of a record-breaking drought, has "really made people in the state focus on water issues," says Hermann.
The product has taken off in the US, with commitments of about 1,000 units made in 2016. The water recycler retails at around US$6,000, while the heater costs about $2,000. The average payback period for these systems is under five years, says Hermann.
While the product has yet to hit the Australian market, he expects the price and payback periods to be similar.
The firm scored its biggest success this year when KB Home, one of California's largest building developers, announced in June that the NEXtreater would be a standard fixture in a 52-home development in San Diego.
"

The hardest part for us was that we were developing a grand new water treatment process, and there was not much science behind grey water treatment. It took a lot of real world, hands-on testing to get started.

Andrew Herrman, founder and chief operating officer, Nexus eWater
This was the first time such a system was installed in a housing estate, according to the state's water officials.
In March, Nexus eWater also became the first company ever to receive the US national certification for residential grey water treatment, known as the NSF/ANSI 350 global standard.
Today, the firm has grown from one office with four staff in Canberra in 2009 to establish three offices in California and Alabama, and about 10 employees in total. It has also raised about $4 million from angel investors and the investment wing of the Australia National University, says Hermann.
Hermann says the company has turned a corner after a few initial difficult years to design and develop these products.
Solving design challenges
When Nexus first started, "the hardest part for us was that we were developing a grand new water treatment process, and there was not much science behind grey water treatment," he recalls. "It took a lot of real world, hands-on testing to get started."
For the first three years, the company cobbled together prototypes using off-the-shelf components such as pumps and valves, a process which Hermann says was time-consuming and frustrating.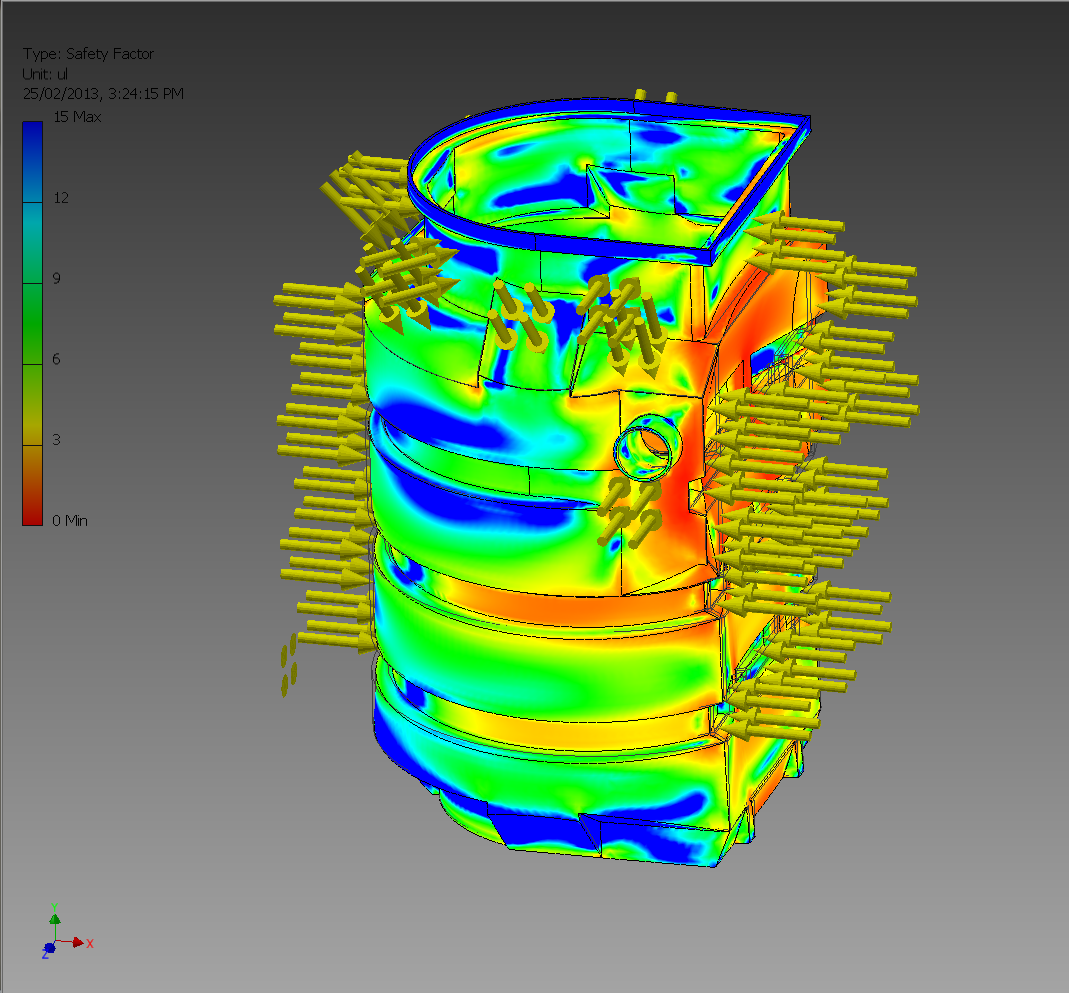 "If you are halfway through building a prototype and find that a certain part doesn't fit or work correctly, you have to improvise and test alternative components," shares Hermann.
This was an arduous process where each tweak could take up to half a day, but the company in 2012 gained access to 3D modelling tools from American software giant Autodesk that could get the same job done in just five seconds.
That year, Nexus eWater was a runner-up the San Francisco-based Imagine H2O Wastewater Innovation Prize, the world's top water competition for water start-ups. Their product caught the eye of Autodesk, and the company invited them to join its Cleantech Partner Program (CTPP) in Australia.
The CTPP is an initiative by Autodesk to support clean technology innovators who are developing solutions to solve environmental challenges. Companies selected for this scheme receive access to Autodesk 3D modelling software worth up to USD$150,000, and training on how to use it.
Once the Nexus eWater team began using the Autodesk Inventor software, which allows 3D product design, rendering and simulation, it was able to design custom components and change them virtually as often as needed. It could also simulate how the material would withstand conditions such as the weight of the water in the collector or soil on top of the underground tank.
"We saved a lot of time in developing layouts, and as a company based in two countries, software also allowed us to collaborate easily," shares Hermann.
It also became much easier for the company's engineers to email the plans to manufacturers based in the United States without having to meet them in person.
The company also plans to use another software package called Autodesk Fusion 360, which allows product designers in Australia and California offices to collaborate on the same file in real time.
Looking ahead, the company has big plans to consolidate its foothold in the US market, says Hermann.
"In five to 10 years, we will have a presence across the entire country," Hermann shares. While the warmer states will benefit most from the recycling system, colder ones which experience lengthy winters and cannot use solar water heaters will be exciting markets for the NEXheater, he adds.
Nexus eWater also plans to return to Australia, where climate scientists are predicting another period of drought thanks to the El Niño climate phenomenon which causes prolonged hot and dry weather.
"Regardless of drought, our product is so cheap to run," says Hermann. "We can save the customer money on their water bills from day one."
Australia will also serve as an ideal base to expand into Asia, where many rapidly expanding cities are also plagued by water shortages. Homes in these markets will need a bigger recycling system which can collect water from apartment blocks and channel it to flushing toilets, says Hermann.
Scaling sales up globally will involve working with developers and trying to get the Nexus eWater products as a standard feature in every housing development, shares Hermann.
"That's how you can really start to have an impact on sustainable communities," he adds.